FREE Bentley with the Purchase of Diamond Rims
How awesome is that? Buy some diamond rims and get a free
Bentley GT
. I know you are probably waiting for me to say sike because you just can't believe this deal, but it's true. Though, the catch is they are set of four
Asanti
diamond-encrusted wheels which run about millon dollars. And, by adding in the Bentley it turns out to be about $850,000 so do you really get a deal?
This Asanti brand which is the luxury line of the wheelmaker Lexani are the only company that offers real diamonds in their wheels. These 22-inch wheels can be ordered with sapphires, rubies or any other gem a prospective owner desires. The famous rapper
Master P
who also owns a set, helps promote the new rims.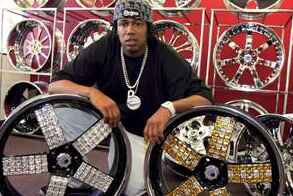 Frequently Updated News on the Auto Industry